Storage Company Listing Database
US and Canada Industrial Property Rental Marketplace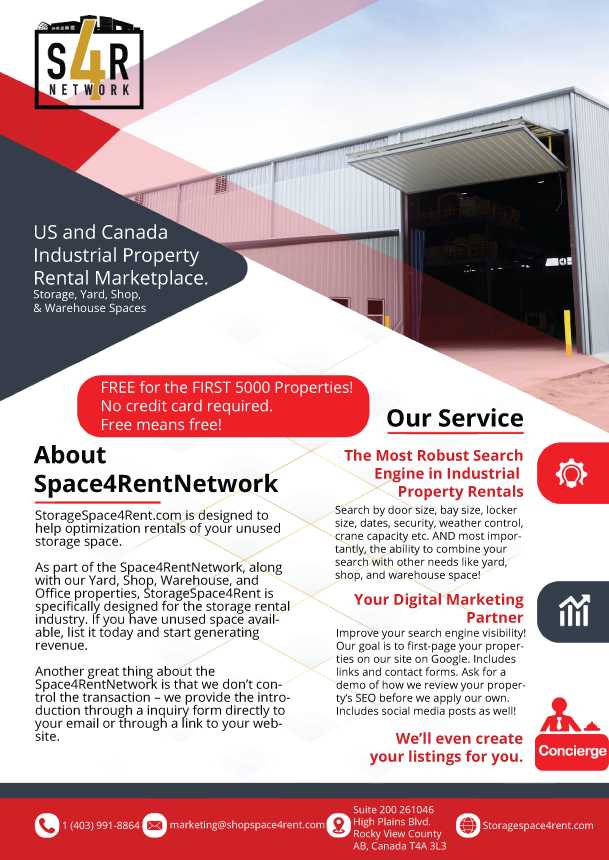 Storage, Yard, Shop, & Warehouse Spaces
FREE for the FIRST 5000 Properties!
No credit card required.
Free means free!
About Space4RentNetwork
StorageSpace4Rent.com is designed to help optimization rentals of your unused storage space. As part of the Space4RentNetwork, along with our Yard, Shop, Warehouse, and Office properties, StorageSpace4Rent is specifically designed for the storage rental industry. If you have unused space available, list it today and start generating revenue. Another great thing about the Space4RentNetwork is that we don't control the transaction – we provide the introduction through a inquiry form directly to your email or through a link to your website.
Our Service
The Most Robust Search Engine in Industrial Property Rentals
Search by door size, bay size, locker size, dates, security, weather control, crane capacity etc. AND most importantly, the ability to combine your search with other needs like yard, shop, and warehouse space!
Your Digital Marketing Partner
Improve your search engine visibility! Our goal is to first-page your properties on our site on Google. Includes links and contact forms. Ask for a demo of how we review your property's SEO before we apply our own. Includes social media posts as well!
We'll even create your listings for you!
Just email us at: marketing@shopspace4rent.com to get started.